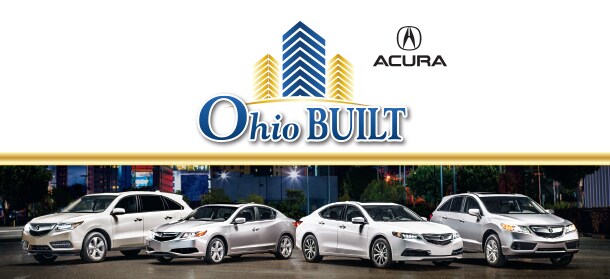 Jobs Created in Ohio
Acura associates employed within Ohio: 15,000
Marysville Auto Plant: 4,200
Anna Engine Plant: 3,000
East Liberty Auto Plant: 2,500
Russells Point Transmission Plant: 1,100
Marysville Performance Manufacturing Center: 100
Investing In Ohio's Future
Acura has invested more total capital in Ohio-$12.4 billion-than any other state in the nation. Over 60% of Acura's total investments in U.S. operations are in Ohio.
Ohio Made, Ohio Proud
In 2017, Honda reached a major milestone, with nearly 70% of its U.S. auto sales being manufactured in the United States. Over 23.6 million Honda and Acura vehicles have been produced in the U.S. since 1982, and more than 25 million in North America as a whole.
"The production of 30 million automobiles in North America is the result of the support we have received from our customers and the communities that serve as a strong foundation of our operations in North America," said Takuji Yamada, president of Honda North America, Inc. "This is an incredible achievement by Team Honda - including the tremendous dedication and teamwork of our associates, past and present, together with our suppliers, dealers and business partners - all focused on creating joy for our customers."
Honda was the first Japanese automaker to produce automobiles in the United States. Beginning with its first plant in Marysville, Ohio in 1979, Honda manufacturing has expanded to 12 plants nationwide, including East Liberty, Ohio; Marysville, Ohio; Anna, Ohio; Russells Point, Ohio; Lincoln, Alabama.; Greensburg, Indiana; Greensboro, North Carolina; Burlington, North Carolina; Swepsonville, North Carolina; Timmonsville, South Carolina; and Tallapoosa, Georgia.
29 Honda and
Acura vehicle models
have been designed and developed in the U.S. since 1991. Ohio-built Acura models include the
MDX
and
RDX
(East Liberty Auto Plant),
ILX
and
TLX
(Marysville Auto Plant), and Acura's next-generation supercar, the
NSX
(Marysville Performance Manufacturing Center).
Eleven state-of-the-art facilities
in six Ohio communities contribute to Acura's revenue, including the production of engines, transmissions, cars, light trucks, service, parts and materials as well as research and development.
Developed in Ohio
All four of Honda's research and development (R&D) facilities play key roles in the development of automobile and powersports products.
The HRA Ohio Center includes an Automotive Safety Research Facility that houses one of the world's highest resolution crash test barriers and the world's first pitching crash test simulation sled.
The Ohio Center is the largest of it's kind outside Japan and is responsible for the development of the current Acura TLX and MDX.
Ohio's role in the Commitment to the Environment95%
of waste materials and building operations are reused or recycled.
For 11 consecutive years, the Marysville plant and East Liberty plant have earned the
ENERGY STAR
Certification. They have not only reduced their energy consumption but have implemented energy-efficient equipment.
We Build Where We Sell: Investing In America 2017. Retrieved from
www.hondainamerica.com